We have created a buyer's guide to showcase what we can offer you, the options you have when choosing metals and gemstones, and also an informative 'Gift Guide' that explains the traditional items often gifted for certain events, celebrations, anniversaries and more.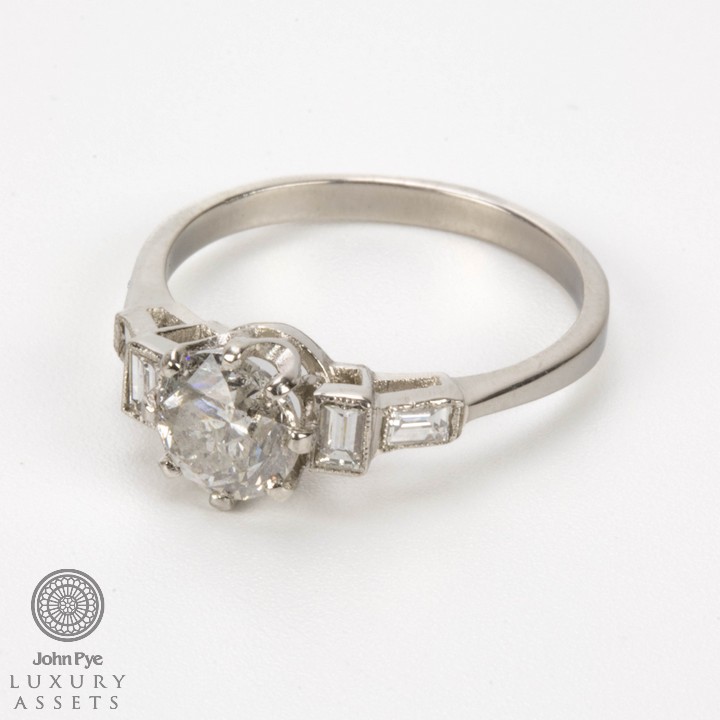 Engagement Ring
Formed by the immense pressure and heat in the mantle of the earth, the diamond continues to be one of the most sought-after gemstones on the market. Ranging in size and age, the diamond is the hardest natural substance on earth, despite its delicate and elegant appearance.  Whether you are looking for a ring, necklace, earrings, bracelet or even a broach – you can wear diamonds in several different ways – most commonly, however, in rings. The popular trend of an engagement ring revolves heavily around a diamond suited to the individual wearing it, so usually, each buyer is looking for something different each time. Whether it's the colour, cut, clarity or carat of the diamond that attracts you, there is unlimited options available on the market. We aim to offer our customers a transparent, quick, and catered service when looking for a ring that suits your tailored preferences. With help from our in-house team of diamond experts, we are able to dedicate time into helping you decide what it is in a ring you want…whether that's down to the size of the diamond, the style of the shoulders, the width of the shank or even the clarity of the diamond itself. If we don't have the size you're after, please contact us and we will check the availability of stock.
Here at John Pye Luxury, we recognise that choosing an engagement ring can be a daunting affair. Follow our easy guide and you will be sure to pick out the perfect ring for that special person in your life.
Style
Contemplate their sense of taste, whether they like classic or contemporary items of jewellery, their preference with size, boldness, and colour, whether their personality is quirky or trend following. The world of engagement rings is vast so recognising their style is a good starting point.
Diamonds or Gemstones
Most engagement rings tend to be set with diamonds, however the popularity of coloured gemstones is on the rise. If you are considering something a little out of the ordinary, then factor in her favourite colour or birthstone. Gemstone hardness is outlined on the Mohs scale, and it is suggested anything below a 7 is not suitable for everyday wear. Gems such as Sapphires, Rubies or Emeralds make great alternatives as they have fantastic durability as well as coloured diamonds which can add a splash of colour with a unique alternative edge.
Size
People mistakenly think the bigger the stone the better the diamond/gemstone. This is simply not true! Learn the basics of the 4cs (Cut, Clarity, Colour and Carat) and you will understand how to get the best value for money from your stone. It is also important to choose a ring which will complement the size of your 'fiancé-to -be's hand. Bold styles and wider bands flatten slender fingers and emerald and marquise cut stones elongate those who have smaller hands. A simple detail which is often overlooked.
Band and Setting
Be mindful of what metal they prefer to wear. Gold can come in a degree of hardness and purity. Consider the colour and whether it will suit their skin tone. If opting for white gold remember that it will rub over time and the rhodium coating will need replacing every couple of years. Platinum is an excellent metal as it is extremely hard wearing and never dulls but try to avoid pairing it against softer metals as it will cause them to wear. The setting should also never be overlooked. Prominent settings can get knocked and caught easy so be mindful of thri lifestyle is particularly active.
Stone Shape
The most traditional cut is the round brilliant and is thought to be the safest when deciding upon an engagement ring. Always look at alternative cuts to give you extra choice; you will be surprised by the difference it can make in the aesthetics of the ring. Old cut and rose cuts have a more antique feel and emerald cuts can often give the illusion of bigger stones. As the market is so vast, it's really important to consider whether the ring will remain loved in years to come.
Cost
There is no set rule on how much you should spend on an engagement ring. Our simple advice, buy what you can afford. If you want to purchase an expensive-looking ring without the high price tag then consider looking for stones which have been treated or enhanced. Diamonds and gemstones are significantly cheaper if they have been altered in some way. Laboratory-grown stones are also a great option, which to the untrained eye can still look like a genuine article. It is important to remember that stones such as these should state that they have been modified or manmade when purchasing. It is also important to consider the longevity of the purchase – will they still like the ring in years to come, and will the style still be in fashion? Will it remain to their taste?
Choosing an engagement ring is not something to be rushed. Doing your homework and asking for help from family and friends will prevent any expensive and hasty decisions.
For further inspiration, browse our latest luxury online auctions with choices to suit all tastes. Take the opportunity to come to our viewing days and ask our experts for any additional advice. We're always here to help.